$40,000 is a lot of money...even for those who are deemed "rich" or a "celebrity", right? So it's probably a lot more to the avergae joe then. Would you shell out that much to win a date (can you call it a date if you pay the person to go out with you?) with Scarlett Johansson? Or anyone for that matter? What if all of the money went to charity (his winning bid will go to benefit
Oxfam America
)? Do you have a charity that is worth pimping yourself out to?
This is the "dream date" the guy won: "The winner, who is from the U.K., and a guest will be ferried to the glittering event (premiere of her He's Just Not That Into You movie - seems appropriate for the date) in a chauffeur-driven limousine to join the star on the red carpet. After the screening, Johansson will hand her date a personal handwritten note."
Maybe the Brit who won the bid thinks he and Scarlett will hit it off and she'll leave Ryan Reynolds and run right into his arms. Probably not though.

Makes me think...is there anyone I would pay $40,000 to go out with on a completely platonic date? If it was anyone, dead or alive: Michael Hutchence would definitely top the list.
If I had to keep it to alive only... Kenneth Branagh
Paul Walker to satisfy the "eye candy" factor - only to discover the true thespian within
Just so I don't choose solely from the world of actors... Adam Levine
And to satisfy my teenage crushes: Corey Haim - original Lost Boy (I'm pretty sure I had this poster on my wall)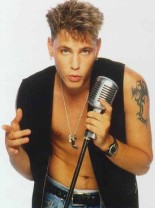 and Kirk Cameron of course (totally had this poster too!)
And my charity would by the
Best Friends Sanctuary
in Southern Utah.
Who would you pay (if you had endless amounts of money, or a scary obsessive one-sided celebrity crush) to go on a "date" with? And who would you donate the money to?